06.09.2020
Organizing information seems to be one of the most crowded development areas within Microsoft. Just after Project Moca went into preview this week, Lists in Teams is now generally available.
Time to take a first look.
To add a new list to a Teams channel, click the Plus at the top of your channel

In the upcoming popup, select Lists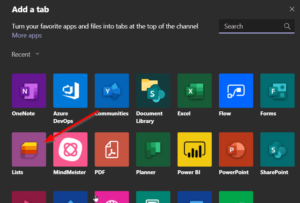 After saving, you will get to choose if you want to create a new List or add an existing one. I chose "Create a List" and was presented with a selection of templates and the chance to create a blank list.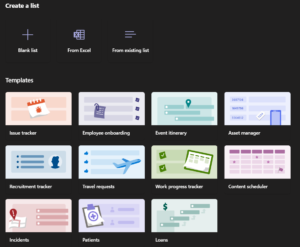 When you want to see how a template is structured, click on it and you´ll be shown how it can be utilized. Here the example for content scheduling.
Out of curiosity I selected the template for "Employee onboarding", a topic I am really interested in, because we want our team to grow. (BTW: Here you can check out our current open positions 😉 )
At first, there´s nothing in your List. But the template itself has specific columns which are relevant for new employees.
To add a new entry, click new item and add your information.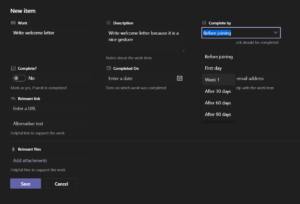 A List of your entries will be shown as the name suggests

If you want, you can alter your entries or even export it to Excel or open it in SharePoint.

As the backend is SharePoint, all your known Automation possibilities are available with Teams Lists also.

To adjust the template to your needs, you can easily change or add columns. For this test, I added a column in SharePoint…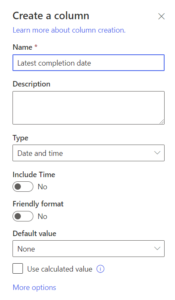 … which immediately appears in the List inside Teams.

As you can see, the new Lists feature is pretty easy to use and adjust to your needs.
It might be your first step from storing structured information in an Excel sheet to a more user friendly experience within Teams or SharePoint.
The out of the box templates are a good starting point for such things as Asset Management if you don´t have a CMDB yet.

Want a simple issue tracker? Try the template for it!

The "Patients" template however seems a bit strange, at least for me as someone living in Germany, where we have high data protection regulations for patient data. But who knows, this is for sure better than nothing in crisis situations where we see pop-up hospitals and things alike.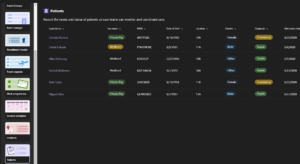 All in all I have to say I see me using this feature. I´m intrigued by the easy configuration and the visibility it can bring to some recurring processes with many tasks. Yes, there are a lot of other ways to track tasks, even within the Microsoft Ecosystem, Lists is yet another way. But with some PowerAutomation I think you can use it as one other way to get tasks in your ToDo app or Planner/Tasks.
When you are in an enterprise environment, you should for sure have a guideline for your users when to use what and where to store  data and tasks, given how many possibilities exist. As an IT Pro, your job is to enable your users to get business stuff done. Lists in Teams might be one way to do so.